Welcome to Troop Ranch
Posted by: Troop Industrial Admin
Troop Ranch is a place to relax, sit by a warm fire, and listen to good music. Someone may even pull out a guitar and you might be singing your favorite country song like you wrote it! There's cold drinks and some of the best food cooked on an open fire. The stars are big and bright. The comradery is fantastic.
This is Troop Ranch.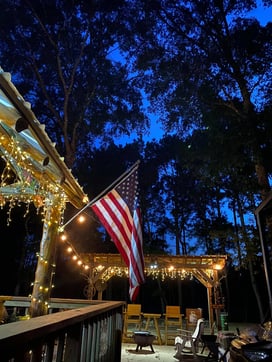 Our grounds are visited by some of our country's best around; Honorable Veterans that have been to places, seen, and done things they were prepared and trained to do. Some aren't as prepared for the acclimation back to civilian life.
Troop Ranch has a few Marines and Soldiers that have been there, and there's a good chance they are going to be a good shoulder to lean on. We love the opportunity to be that shoulder and always welcome the chance to lend a good ear. We may not have all the answers all the time. We know people that can help regardless of what the challenge is. If you or someone you love could use some brother/sister time, please hit us up!
What's Happening at Troop Ranch?
We love to host friends in industry, an occasional Country Jam in the woods, and events that bring folks in industry together in a secluded country paradise that you just can't find everywhere.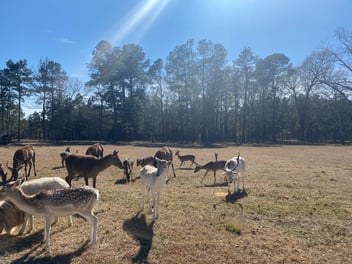 Honor Hunts are something that is very rewarding for everyone involved. If you have a Veteran or First Responder you would like to surprise with an Honor Hunt, we can make that happen. It can be a one day trip to the ranch, or we can make it an overnight two-day event that offers the full experience, including harvesting an animal. We have a variety of exotic deer available and would be proud to make sure your person is truly honored and made to feel the appreciation you are looking to convey.
Relax With Like-Minded People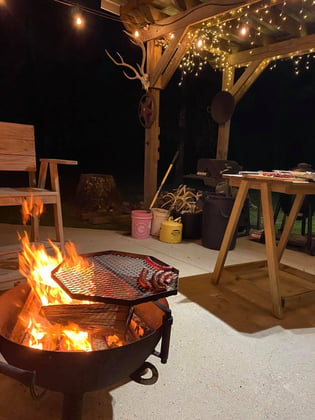 You will feel right at home, relaxed, and comfortable at Troop Ranch. We don't run a lot of folks through our property. We truly look for opportunities to spend time with people like us. People that love America, are hard working, probably have dirty boots and hands at work or manage that type of work. The folks that build America from the ground up. Men and women that have laid it all on the line for our country and living with the internal/external wounds of combat and value being around like-minded people that have experienced something similar. Folks that are responding to the 911 calls and deal with some of our country's greatest crises within our own borders.
We love hosting quality guests at Troop Ranch. The steaks, the drink, the music, the fire, all seems to be better when you're in the secluded wooded environment that Troop Ranch provides.
Brian Swindel, proud U.S. Marine Corps Combat veteran and owner of Troop Industrial, has made Troop Ranch his labor of love. He owns and runs the ranch to offer America's men and women, the backbone of our country, a little slice of backwoods American paradise to rest and recharge.
We Take Pride In Our Community
A veteran-owned, rustic East Texas getaway can do a lot to support the spiritual, physical, and mental fitness of those who have served — but that's just the beginning. We love the greater Kirbyville region as much as we love our country. In that vein, Brian has devoted the ranch to the never-ending work of supporting and celebrating the community.
Pride in our veterans is a core value at the ranch. We love the idea of bringing real veterans onto Troop Ranch to show off the valuable work that they're doing. You never know…maybe we'll get our Marine Brother, retired 1st Sergeant Paul Stevens of Train to Survive out here to teach a self-defense course (seriously Paul, still waiting for you to throw us like that dude in the pic!).
We also take great pride in our ranch grounds, and sharing it with the world as the setting for an episode of Animal Planet's Lone Star Law was very cool. Check out Episode 6 or Season 6, "Midnight Manhunt," which follows Game Warden Inman as he investigates the death of an eagle in East Texas, to see for yourself!
(ABOVE: Troop Ranch as seen on Animal Planet's Lone Star Law)
A Veteran Retreat Serving Those Who Have Served
We know what it means to go to battle for a country you love. We also know that our nation's veterans deserve the chance to heal the mind and rejuvenate the soul when they return. But it's more than that, Troop Ranch is here to celebrate and thank you for your service.
A trip to the ranch is your chance to spend quality time fishing with the old man over Thanksgiving Break, or to sponsor a thrilling weekend hunt for an honored friend. We're grateful for the opportunity to share in the moment and snapshot some memories!
Rumor has it that Collin Glaze caught double the fish that his dad, Mike Glaze did during their stay at Troop Ranch. Good work, kid! Mike is Retired Army. After multiple tours in Iraq — along with a couple of Bronze Stars for exemplary performance in combat — Troop Ranch couldn't be more proud to call the Glaze family our friends. Troop Ranch is about you.
Sponsor a Hunt You'll Never Forget

On another weekend, a group of friends got together to honor a great man, husband, father, friend, Fireman, Master Mason, and Army Veteran — Sonny Richardson. Sonny's friends Kit and Harold told him he was there to shoot pigs (Troop Ranch has no pigs). Really, his buddies had sponsored him a Red Stag Hunt, which they revealed only seconds before the harvest!
It may have been the most meaningful hunt we've experienced. The love and honor extended on behalf of Mr. Sonny was admirable and heartwarming for everyone in attendance. There wasn't a dry eye on the property as Sonny listened while Harold read a personal note about everything Sonny means to the people who love him most. It was truly an honor to have Sonny out to the ranch.
There's no question that the fresh air and the great outdoors can provide calm and relief after the hardships of service. We couldn't imagine a better place to take a step back from life and reflect on a job well done.
Whether you're a seasoned hunter, trying something new, or just want to spend some time with your little outdoorsmen in the making, Troop Ranch is a place you won't soon forget. Come for the grub and drinks around a crackling fire, take a hike through the pristine grounds, and do a little bass fishing away from the craziness. Food. Music. Friends. What more do you need?
Follow Troop Ranch on Facebook and get in touch to sponsor an Honor Hunt for an honored friend.